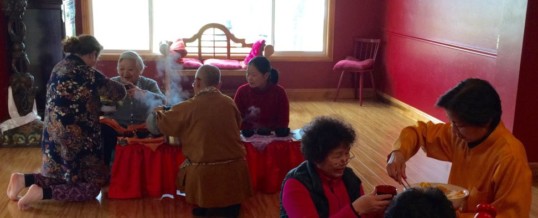 Steam rises from the food being served for lunch at a very short retreat and seminar held at the Holy Vajrasana Temple and Retreat Center on February 3-5. Those attending participated in both the regular morning and evening service at the temple, chanting in English, Chinese, and Tibetan.  The meals were held in the formal Oryoki style.
Those who understood Chinese listened to several dharma discourses by H.H. Dorje Chang Buddha III including one on how supernormal powers relate to ending the cycle of birth and death and how the practice of qi-gong is not the same as the practices of Buddhism. The Temple's abbot, Zhaxi Zhuoma Xuan De read a preliminary translation of these discourses to the nonChinese-speakers. Working with translators, the two groups came together to discuss and debate what they had learned, following the guidelines on how to listen to dharma discourses given by His Holiness the Buddha. This discourse was particularly timely as all attending the retreat had also participated in the recent Kuan Yin Great Compassion Empowerment Dharma Assembly that the Temple had sponsored and this dharma discourse discussed what happens at those kind of empowerments. Several of those attending have provided written accounts of their experiences at that dharma assembly (Ye She Yang Jin, Wang Shui Fang, and Yan Jing).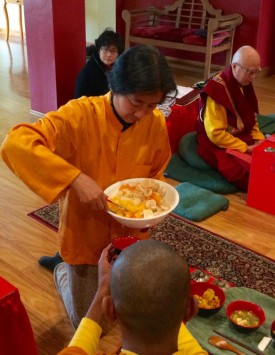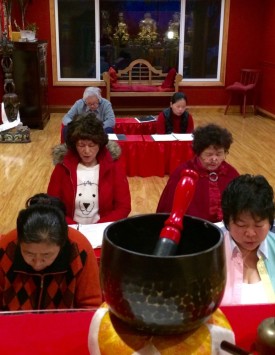 There was also time for several sessions of meditation and to study notes taken during the dharma discourse in preparation for debate.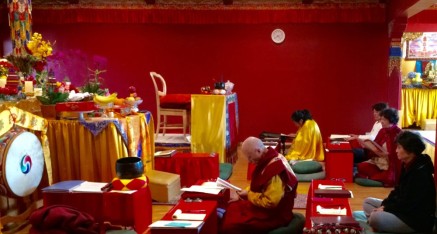 The majority of those attending were from Shanghai, China, but there were other participants from elsewhere in China, Sri Lanka, New York City, and Pasadena. Some chartered a bus to bring them from the Los Angeles area and return them after the retreat. As soon as they arrived at the temple on Friday afternoon they went to see the Holy Vajra Poles. They were not disappointed. As soon as they chanted the name of H.H. Dorje Chang Buddha III, each of the five poles began to vibrate and quaked quite vigorously. This was a most auspicious beginning for an excellent retreat.
Click for more photos.