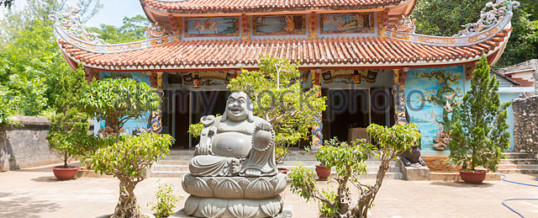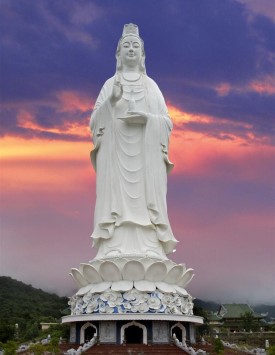 A Kuan Yin (Avalokitesvara) Bodhisattva Great Compassion Empowerment Dharma Assembly will be held at the Thai Son Pagoda, Su Van Hanh Road, Ngu Hanh Son Ward, in Da Nang, Vietnam on Sunday, December 17. See SCHEDULE for more information and local contacts.
The ceremony will be followed by a fish release in accordance with the stipulations of the dharma that captured living beings be released as an essential part of the concluding practice of this dharma. In fact, the most important aspect of the Kuan Yin Great Compassion Empowerment Dharma is selflessly benefiting and helping living beings. Click for more information on the ceremony. Zhaxi Zhuoma Rinpoche will also conduct an all-day class in Da Nang to discuss the book based on discourses given by H.H. Dorje Chang Buddha III entitled, Learning From Buddha. Click for details as they are available.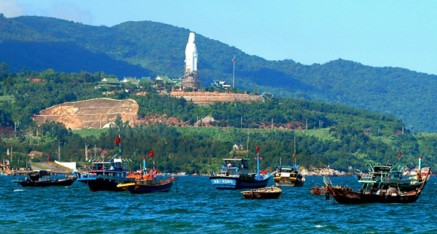 A 220 feet (67 meter) marble statue of Kuan Yin Bodhisattva on a 115 feet (35 meter) lotus base overlooks Buddha Beach (Bai But) in the Son Tra peninsula area of Da Nang. Facing the vast South China Sea, it is part of the Linh Ung Pagoda Bai But and considered to be the highest Buddhist statue in Vietnam. It is told that coastal fishermen found a statue of a Buddha on the beach here during the Nguyen Dynasty (nineteenth century) and built a small pagoda to house it. Kuan Yin appeared there and rescued local people and brought a peaceful life.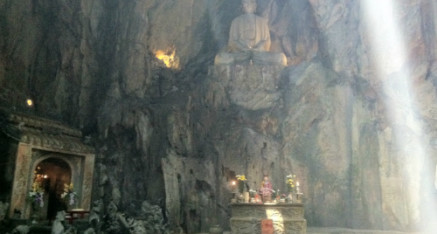 Da Nang, a city of over 1,000,000 population is the third largest city in Vietnam and a major port city. It is located within 100km of several UNESCO World Heritage Sites, including the Imperial City of Hue and the Old Town of Hoi An. The five Marble Mountains, named for the five elements found in Chinese medicine contain many caves, grottos, as well as temples and pagodas.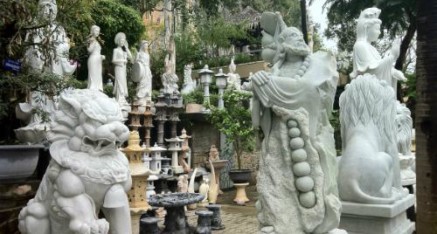 There is also Non Nuoc Stone Carving Village, a scenic and unique craft village located near the sea at the base of the Marble Mountains.