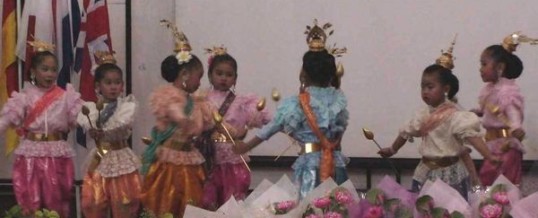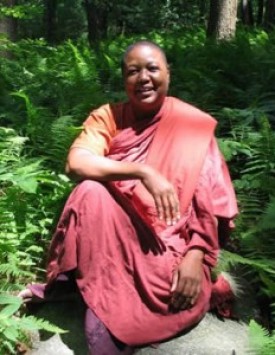 Venerable Bhikkhuni Dr. Pannavati, a disciple of Zhaxi Zhuoma Rinpoche, was one of nineteen women recognized with the Outstanding Women in Buddhism Award in Bangkok. She also delivered the keynote address at the symposium that was held at the Association for the Promotion of the Status of Women. The tiny dancers shown above were part of the welcoming events to honor these amazing women. The awardees were from Austria, Burma, Cambodia, India, Nepal, Sri Lanka, Thailand, and the USA and were both lay and monastic. They included scholars, social workers, dharma masters, healers, human rights activists, psychotherapists, and others devoted to improving the recognition of Buddhist women and girls, charitable activities, and the spread of the Dharma.
The annual event has been held in Thailand since 2002. It developed out of an idea held by Venerable Bhikkhuni Dr. Lee, an American living in Thailand, after she delivered a speech at the United Nations in honor of the International Women's Day on March 8, 2001.
Bhikkhuni Pannavati is the Co-Abbot, spiritual director, and founder of the Embracing Simplicity Hermitage near Hendersonville, North Carolina. She is a follower of H.H. Dorje Chang Buddha III and has full ordination in both the Theravada and Mahayana Chan lineages. She is a former Christian pastor, Taoist monk, and initiated yogi with a Master's Degree in Education, a Master's Degree in Business, and a Doctoral Degree in Religion.
Bhikkhuni Pannavati is an international advocate for women's and children's rights, as well as, equality and respect for females in the Buddhist monastic life, and the eradication of racial and socio-economic abuses in America.
Both male and female monastics and Dhamma teachers reside at Embracing Simplicity Hermitage, which operates a homeless shelter for teenage males on the premises, a residential high school diploma and training program for disadvantaged youth ages 16-24, and a residential training program for teenage females with children. Through interfaith and community collaboration, the hermitage is also spearheading development in the city, building 16 houses for low-income families; and has received approval from the North Carolina Board of Governors to submit their curriculum to offer a Master's Degree in Buddhist Psychology.
Click for information on the nun ordination conducted by Bhikkhuni Pannavati and others and also click for the symposium that followed the ceremony.