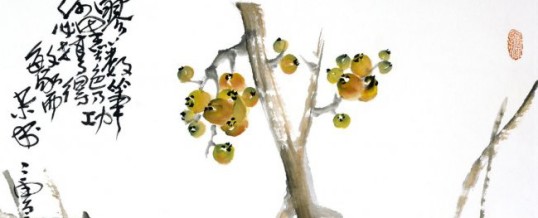 Loquat, another of H.H. Dorje Chang Buddha III's recent paintings has been sold in New York City at the Gianguan Auctions on September 12, 2015, for US$10,200,000.  Experts have commented, "H.H. Dorje Chang Buddha's painting is charismatic and unfathomable, the brush strokes are miraculous and with infinite charm. 'Loquat' is a remarkable painting. A few strokes is able to express a broad view of great insight. The movement is lyrical and elegant; simple and tranquil."
H.H. Dorje Chang Buddha III inscribes on the painting, "A mere few strokes and ink tones achieve the purpose; Why clutter the space with extraneous marks? Penned in year 2013, Dorje Chang Buddha III."  The spontaneous calligraphy is as vivid as dynamic movements of dragon and snake, creating powerful impression. The artwork contains H.H. Dorje Chang Buddha III's three dimensional thumb print seal that is unique for recognizing authenticity. It also has two other seals "Dorje Chang Buddha III" and "Gui Yuan." Within this one artwork, it actually embodies three art mediums: painting, calligraphy and seal; all are of unique and exquisite quality.
Compared to Ink Lotus that was auctioned in the spring, this is a starkly different style. One is powerful and filled with vigor of the universe, the other is stylized and graceful. Bidding started at US$9,000,000 for the small ink on paper painting with competitors from Europe, Asia, and America. The successful bidder who did not want to disclose her name expressed excitedly, "I have been wanting to collect the works of H.H. Dorje Chang Buddha III for a long time. Today I got my wish!"
The mid-town Manhattan auction house had showcased this exquisite contemporary Chinese painting by H.H. Dorje Chang Buddha III noting that the artist is known for his portrayal of all manners and styles spanning Western oil painting to classical Chinese paintings and calligraphy. They noted that the artist is one of the top ten contemporary artist of Chinese ethnicity capturing the attention of the international auction market; due to the rarity of available works as well as the unrivaled skills and artistry. The following is their description of this masterpiece.
Loquat by H.H. Dorje Chang Buddha III emits elegance of colors and simplicity of form. Accompanied by rhythmic ink washes, it effuses dynamic mutation of hues. The serene composition, subtly carries vivacious rhythm, is magnificently full of life! One could breathe the ease of strokes, the brilliance for colors, the uncluttered composition, the clarity of space in the portrayal of nature. Clusters of fruits are attached their lifeline, juxtaposed against long branches, suggesting the buoyant dip and bounce of the sweet fruits in the air. It is as if there are dozens of layers of ochre-yellow hues, culminating three-dimensional roundness to the ripening fruit. Yet all these illusions are created but by just the minimal number of precise brushstrokes. The artist allows us to perceive the spirituality of life embedded in the animated fruits at their moment of maturation and glory.
Calligraphy, poetry and prose are always key elements in Chinese paintings. Loquat offers a wonderful dancing script on the left. Even if you do not read Chinese, one cannot help but follow the movement of the brushstroke, the gentle stillness of ink washes, delicately put together to anchoring the wholesome impression of nature in time. Loquat is a rare work that succeeded exquisitely in capturing the freedom of timelessness. In Loquat, half of the space is untouched. White space offers viewers the depth of contemplation: giving the mind unhurried time to journey into one's own inner integration. By way of poise and without unnecessary overture, H.H. Dorje Chang Buddha III gives us the gift of lightness both in the sense of luminosity and density.
Some collectors value history and give certain value to a certain period in art historical development. Others would venture into something that is timeless and can be appreciated by anyone at any time and engage with life's vivaciousness.

Note: Click for information on another painting by H.H. Dorje Chang Buddha III, Ink Lotus, that sold for $16.5 million in March. Click again for two paintings that sold for over $2 million each in 2000.