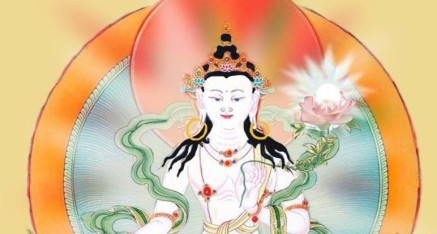 [Chinese: 除蓋障菩薩 Chú Gàizhàng Púsà or 凈諸業障菩薩 Jìngzhū Yèzhàng Púsà; Tibetan: Dribpa Namsel], is the Remover of Hindrances Bodhisattva and one of the Eight Great Bodhisattvas. Sarvanivarana-Vishkambhin is one of the Eight Great Bodhisattvas in Mahāyāna Buddhism, along with Mañjuśrī, Samantabhadra, Mahāsthāmaprāpta (Vajrapani), Akasagarbha, Avalokiteśvara, Maitreya, and Kshitigarbha. He is invoked to remove or eliminate all the obstacles to insure a successful meditation. There are five "nivaranas" or hindrances along with ignorance (avijja) that serve as obstacles or hindrances to the progress of cultivating the mind that He will help eliminate:
sensuous desire (kamacchanda),
ill-will (vyapada),
sloth and torpor (thina-middha),
restlessness and regret or scruples (uddhacca-kukkucca), and
skeptical doubt (vicikiccha).