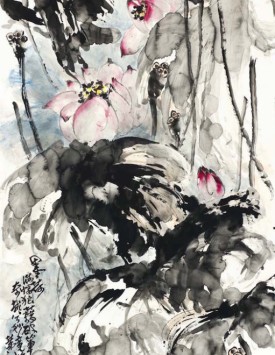 NEW YORK – An all-star assemblage of famous Chinese paintings ignited bidding wars at Gianguan Auctions' Manhattan gallery on March 22nd, with the star of the show being a H.H. Dorje Chang Buddha III masterpiece that sold for $16,500,000. The buyer is an American who wishes to remain anonymous.
The auction – and its top lot's staggering 8-figure selling price – crowned a series of high-profile events known collectively as Asia Week New York. The auction lineup included – almost exclusively – artworks by world-renowned masters, and marked the first time in auction history in which so many major Asian artists were represented in one venue. LiveAuctioneers provided Internet live bidding services for the sale.
The H.H. Dorje Chang Buddha III painting, titled Ink Lotus, reigned supreme both in terms of merit and value. "Ink Lotus— An utter chaos strewn with broken strokes: a peculiar sight, yet wondrously endowed with a soul-soothing charm," the artist wrote in the context of the artwork.
"When the appraiser first unfurled the scroll and saw the painting, he declared with astonishment: 'Dorje Chang Buddha III has arrived,'" said a statement released by Gianguan Auctions.
Paintings and calligraphy by H. H. Dorje Chang Buddha III are difficult to come by and even more difficult to acquire. According to auction specialists, the International Art Museum of America has offered to purchase H. H. Dorje Chang Buddha III's sunflower and water lily oil paintings for more than $1 million per square foot, but has yet to acquire any such paintings.
Ink Lotus was the highest-selling painting of all that were offered at auction during Asia Week New York. It trumped even artworks sold by Sotheby's and Christie's and surpassed selling prices for works by renowned artists East and West, past and present, including Shi Tao, Wu Changshuo, Yun Nantian, Qi Baishi, Zhang Daqian, Xu Beihong, Fu Baoshi, Pan Tianshou, Li Keran, Huang Binhong, Wu Guanzhong, and even the Five Dynasties' Juran, the Southern Song Dynasty's Su Hanchen, and the Ming/Qing Dynasty's Wen Zhengming and Zheng Banqiao.
Buyers from several countries launched a bidding war over H. H. Dorje Chang Buddha III's painting, which opened at $10,500,000. After several intense rounds of paddle-raising among the final few bidders, an American prevailed, beating out competitors from as far afield as Paris and Southeast Asia.
A mounted ink-on-paper work, Ink Lotus is 10 square feet in size, which means it sold for $1,650,000 per square foot. Even H. H. Dorje Chang Buddha III's limited-edition reproductions are in high demand and "sell for more than prints by such world-renowned painters as Picasso, Monet, Van Gough, Cézanne, and Gauguin," the statement from Gianguan Auctions said. "H. H. Dorje Chang Buddha III's limited edition of 200 copies of 'Carp in a Lotus Pond,' for instance, [has sold at auction for] $380,000 dollars for one piece."
All H.H. Corje Chang Buddha III's originals include the artist's three-dimensional fingerprint as authentication. Experts predict that his paintings will become increasingly valuable to the point of being unattainable gems on par with national treasures, since H. H. Dorje Chang Buddha III is now focusing solely on Buddhist activities and will no longer pursue painting.
According to lineage charts, H. H. Dorje Chang Buddha III is the highest world leader of Buddhism—a title neither self-appointed nor unilaterally proclaimed by any individual religion or group. In 2012 the United States Senate unanimously voted to approve the resolution to honor H. H. Dorje Chang Buddha III's contribution to humanity, and conferred the title of His Holiness upon Dorje Chang Buddha III. H. H. Dorje Chang Buddha III is also the only Buddha in the world to have a Buddha Day. Then-Mayor Vincent C. Gray proclaimed January 19, 2011 to be "H. H. Dorje Chang Buddha III Day." The USPS approved the issuance of a commemorative envelope to honor the special day.
H. H Dorje Chang Buddha III has also received countless awards, including the prestigious World Peace Prize, the Presidential Gold Medal, the Congressional Republican Gold Medal, the International Leader Award, and the Martin Luther King Award, among others. H. H. Dorje Chang Buddha III is also a Fellow of Britain's Royal Academy of Arts, and the only Fellow appointed in the Academy's 200-year history. The fellowship was awarded by the Academy's president, Phillip King, at a ceremony in the British Embassy in Washington.
View the fully illustrated catalog for Gianguan Auctions' March 22 sale, complete with prices realized, at http://www.liveauctioneers.com/catalog/68480_fine-chinese-arts-auction/page1 .
#   #   #
Auction Central News International contributed to this report.
Read more:  http://www.auctioncentralnews.com/index.php/auctions/auction-results/14428-hh-dorje-chang-budda-iii-painting-sells-for-165m-at-gianguan-auctions#ixzz3Vk3PauV5
Click for more on Ink Lotus.
A second painting, Loquat, sold for $10.2 million in September. Click for more information.
Click for photos of more artwork by H.H. Dorje Chang Buddha III.